(ETH) – Controversial preacher Greg Locke of Global Vision Bible Church in Mt. Juliet, Tennessee, has said he will "not back down" or be "intimidated" after his church was vandalized by an unknown individual.
In a post to his Facebook account on Sunday morning, Locke said an unknown assailant vandalized his church's property before being chased away by security around 2:30 a.m. "He did quite a bit of damage before he was spotted," wrote Locke in his Facebook post, adding that "it was all caught on our surveillance cameras."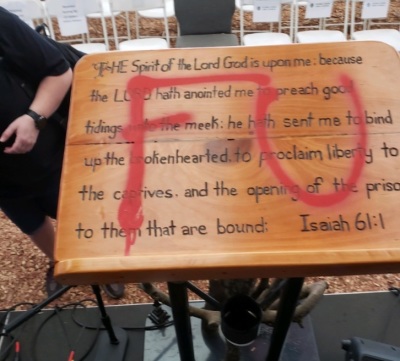 "Kudos to some of our peeps getting there and beginning to clean at 3:00 am this morning," he continued. Locke posted photos of the vandalism, which included the declaration "Your lies cost lives" in red letters in one area, while the words "FU" were painted on the pulpit in the sanctuary.
Locke said the vandalism of his pulpit "not only grieves me the most, it fires me up to want to fight more," adding: "WE WILL NOT BACK DOWN. WE WILL NOT BE INTIMIDATED." As of Monday morning, Locke's post had received around 3,200 shares and well over 800 comments.
Many of the comments expressed support for the pastor, though some were critical. According to The Washingon Newsday, Global Vision Bible Church has been criticized in recent weeks for its response to COVID-19, including a recent declaration that churchgoers who arrive wearing a mask will be asked to wait in their car.
Church security spotted the man at 2:30 a.m. Sunday and chased him away, according to Locke. The culprit was also caught on the church's surveillance cameras performing acts of vandalism, according to the pastor. According to WKRN, an ABC-affiliated TV station in Nashville, church officials said security footage showed a man wearing a mask and hood. Officials also told the channel that the event is still being investigated by police.