(Ricky Scaparo) A very interesting story is coming out regarding Thirteen bald eagles that were found dead at a Maryland-area farm over the weekend and federal authorities are currently investigating, and offering a reward for any information. The Maryland Natural Resources Police (NRP) were first called to the scene on Saturday afternoon after a man discovered four dead bald eagles on a farm in Maryland's Eastern Shore region, according to NRP spokeswoman Candy Thomson. FULL ARTICLE
EDITOR'S NOTE: When I saw this story breaking I saw so much symbolism in this for America. Let me explain. The National symbol for America is an Eagle and Thirteen Colonies were founded in the 16th and 17th centuries that declared independence in 1776 and formed the United States. The thirteen were: Delaware, Pennsylvania, New Jersey, Georgia, Connecticut, Massachusetts Bay, Maryland, South Carolina, New Hampshire, Virginia, New York, North Carolina, and Rhode Island and Providence Plantations. Is there a prophetic picture here? If so what could it represent? We do know that the number 13 is symbolic of rebellion and lawlessness. SOURCE
Nimrod, the mighty hunter who was 'before the Lord' (meaning he tried to take the place of God – Genesis 10:9), was the 13th in Ham's line (Ham was one of Noah's three sons who survived the flood). Thirteen represents all the governments created by men, and inspired by Satan, in outright rebellion against the Eternal. America as a Nation has continued to rebel against God through Idolatry, Legalized abominations and the list continues.
The phrase 'valley of Hinnom' (or variation thereof) occurs in 13 places in Scripture. The valley was the scene of the evil-inspired rites of the pagan god Moloch (or Molech). Molech was an idol god worshiped Phoenicians which included child sacrifice, or "passing children through the fire." It is believed that idols of Moloch were giant metal statues of a man with a bull's head. Each idol had a hole carved out in the abdomen and possibly outstretched forearms that made a kind of ramp to the hole. A fire was lit in or around the statue. Babies were placed in the statue's arms or in the hole. Today we don't see this in America but children are aborted daily by a practice of removing the child from the belly of it's mother.
The dragon, a symbol for Satan, is found 13 times in Revelation. Satan is behind all rebellion against God.
In Romans Chapter 1 Paul lists 23 characteristics of sinful people who have a debased or reprobate mind. The thirteenth characteristic is that they are haters of God (Romans 1:28 – 32). I am grieved as I have witnessed over the years, such hatred towards the things of God and believers at large in America.
The American Dollar even has the number 13 embedded all over it: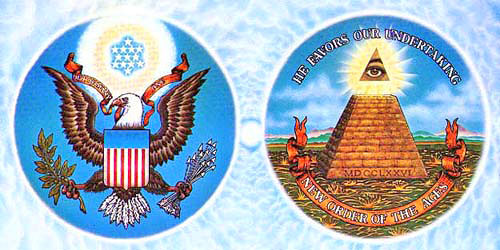 13 steps on the pyramid of the Great Seal
13 letters in "Annuit Coeptis"
13 stripes in the shield on the eagle
13 stars above the eagle
13 letters in "E Pluribus Unum"
13 arrows in the eagle's left talon
13 leaves, and 13 fruits on the olive branch in its right talonI believe the Lord is continuing to send America warning after warning that we may continue to seek him through prayer and intercession to turn things around and bring another mighty revival to the land to bring America back to God. Let him who has ears to hear, Hear!